THE FIRST GIG OF THE YEAR
Wheaton Aston Festival, Staffordshire.
It's always an adventure going off to a festival and this was no exception. Anyone who knows me knows that I am a night owl and so staying up all night to ensure Karen could be woken gently at 3.30 am for a 4.30 start was no great hardship.
Due to circumstances beyond our control, I had to wake her at 2.30 and we could not commence the journey until 5.00. So, after filling the tank at Maryport we set off into the slow dawn and headed through the Lake District towards the M6. Even with the twists and turns in the road, it's a bit quicker and I do enjoy seeing the home turf. Getting back to the beginning; Windermere, at the start of the journey and getting the perspective between leaving there at eighteen and knowing where I am now a very different person.
The entire journey down the M6 was notable for foul weather all the way, and around junction 15 tailbacks and hold ups due to an artic that had jack-knifed through the central reservation and mass traffic of football supporters on the way to the FA Cup Final.
However, by 10 am, we had left the M6 and it was only a short hop from there to Wheaton Aston.
A return booking from last year I was looking forward to this one. It's always good to get the first gig under my belt and I do like Wheaton Aston. Its festival is really something exceptional for the size of the town and I particularly like these type of festivals where the venues are pubs, and village halls. It gets people out and about in their town and perhaps only for that weekend you feel a real sense of community. Julian and Hilary do a brilliant job here without the mega funding that other festivals may have.
Anyway, we were there and after setting up the new tent (possibly the most crap tent I've ever slept in) down to the craft field to put out the board announcing my storytelling session. I was in Lloyd and Helens headshop/open mic stand so I must big up to these two fellow Cumbrians and their hospitality over the weekend. It wasn't the best location for storytelling as being on the route into the lower half of the craft field meant there wasn't too much stopping, sitting standing and watching space to be had. Nonetheless I got em' and some cracking sessions were had. Starting with Captain Crest, which I've done loads of times but it is a good one and I can pick, out young actors from the audience for the final part. Here at Wheaton Aston I got some of the best I have ever had. Dagon, Sophie, Daisy, Maddy and last but not least Isis. Thank you all for making it such a fun weekend never mind such a good performance in the tale.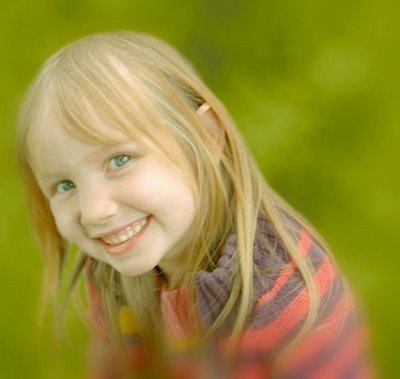 ISIS

MADDY
I'd also taken bluesmonkey down for a final spin before I do some essential restoration on him. It never fails to amaze (and delight) me how people respond to what is essentially a pretty naff puppet operated by a pretty naff puppeteer. Nevertheless, he does create more laughter and joy in five minutes than you could think possible and it is such fun doing it. Follow the link to his blogspot for his account of the weekend. WARNING. His language may be a little more colourful here so parents be aware of this.
http://bluesmonkeys-letters-from-the-edge.blogspot.com/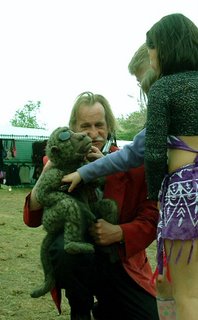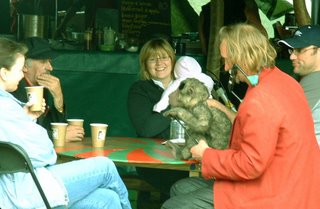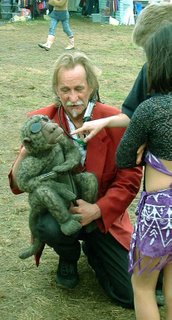 By 6.00pm on Saturday, I was well and truly knackered and so back to the tent for a coffee smoke and a lie down. I dropped off the sleep by 7.00 and did not wake until 3.00am missing all the music I wanted to see, asleep again by 3.30.
Sunday, better weather today and what fun it was. The open mic aspect of the tent worked well and praise must be heaped on Kate the Flute who after only playing for a year can be forgiven for not knowing "The Witches Promise" by Jethro Tull and James (Djembe) and Joel (Melodeon) who were absolutely brilliant. I happen to know these two and their parents are also Solfest regulars and I will keenly watch how these two musicians grow over the years. Think Spiers and Boden of the future.
All in all a really good weekend even though the weather was not the best and having to leave early due to Karens work commitments. In contrast to the outward trip, the journey back was a breeze, arriving home by 10.30.
Knockengorroch next weekend. Not a bad life is it

SAM & SON (Isis and Maddys mum)
The Wizards Pot
An archive of the life and rantings of The Wizardmarra. www.wizardmarra.com The Best Storyteller In The World.