IT'S ALL ABOUT THE PEOPLE
1: THIMBLEBERRY FESTIVAL: Saturday 24 June.
After an early morning start, Karen and I were travelling east to Thimbleberry. Thimbleberry; a name that conjures images of bucolic English villages and rustic Mummers on the Green or an Enid Blyton pixie. The journey there took us through villages that could fit the first description at least. Delightful oases of charm that appeared out of the bleak landscape of high moorlands and cross Pennine emptiness. Cornriggs, Cows Hill, St Johns Chapel. Cumbria blended seamlessly into County Durham, the road running like a river through the land. (If rivers could climb hills)
The festival itself was high up on these moors, high above Stanhope Probably the highest festival I've ever been too set in the grounds of Thimbleberry Farm. I can't say that the first thing I saw on entering the site was the most welcoming, a big wheelie bin with the words DANGER RATS painted on the side. However, it was by the main gate and once onsite proper I was pleased to find a good-sized site with views that almost make it worth going to the festival just to see them.
Here Dave (organiser of the whole shebang, who at the moment is having a difference of opinion with his local authority about the festival, check out the site for the crack. http://www.thimbleberry.co.uk/) really seems do it all with very little help and all power to him for that. His idea was for me to "Move about the campsite and interfere with the punters" This proved to be a terrific idea. One of the best thing about festivals is the campsites that you set up with your friends and moving round these telling stories to folk round their fires was charming, enabling me to get back to a more intimate quieter style than my normal tale telling. I'd taken the monkey too and he was a huge success. Then again, he always is, but I did find myself after one marathon session of madness walking bluesmonkey around that I wasn't really saying anything amusing and in fact, my words were disjointed and mispronounced. I can only do the monkey for short periods before it gets into my head and I start becoming strange. Now I understand Rod Hull so much more.
Nevertheless, as always, it is the people that make a festival and Thimbleberry was no exception. What a fantastic bunch (I shall have to start writing peoples names down as I can't recall any from the day. I'm writing this about a month after the event) though I can't forget the tent full of Scotsmen, a real pleasure to meet them as they invited me in for a story. The big guy in the micro kilt has rather left a scar in my mind but thanks for the smoke and the beer.
2: THE WORKHOUSE FESTIVAL: LLANFYLLIN. Friday June 30
Like Thimbleberry, I was only at Llanfyllin for a day, booked for one cabaret slot. Which I have to say was not my best gig. But it was a Friday which is always a funny day as festivals in general don't really kick off until the Saturday. So, the audiences aren't quite as large and in this case seemed to be sitting miles away from the stage. So eschewing the microphone I got offstage and did my thing in their faces. It was good but not my best.
But what a beautiful festival. Set between two hills and basking in the first good sunshine off the festivals I've been to this year. One of the BEST things about this job is travelling about this fantastic country of ours and Wales was so gorgeous, my first time there and it is beautiful. It is on a fairly small site, but laid out really well and with some lovely site art. Rather than going for big spectacular stuff the organisers plumped for good sculpture placed well amongst a site that had been carefully considered and had such a peaceful feel to it.
Good good music to. The first person I laid eyes on was Sleepy Ed Hicks a Solfest favourite and later that day 3 Daft Monkeys, possibly one of the hardest working bands on the circuit this year (catch them on the DRYSTONE at Solfest this year, oh hang on if you haven't got tickets you're knackered. We have sold out!) It was also good to run into Davy Malone again (another Drystone Stage hero, returning as is Ed Hicks to Solfest this year) I'd seen him the previous week at Thimbleberry. I would have loved to have had more of a chance to crack with him but Glasson Dock was calling and Karen and I had to leave this brilliant festival when I could easily have stayed and chilled all weekend.
A special hello to the bloke who ran up to me about fifteen minutes after arriving onsite who'd recognised me as the Solfest compere. I hope you got your tickets for this year.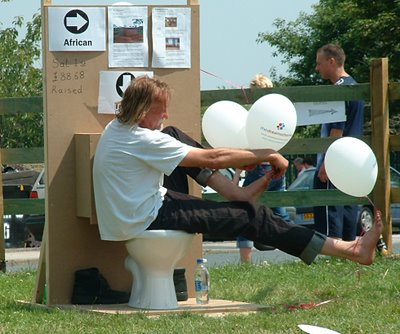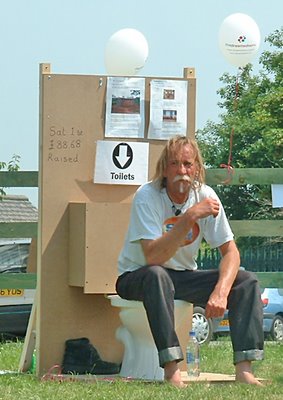 3: GLASSON DOCK: Saturday & Sunday July 1 & 2
My second year at Glasson. Undoubtedly the smallest festival I get to work at. But some of the nicest folk you could meet.
Glasson Dock is a tiny place just down from Lancaster, and more picturesque than you would think of for a place with Dock in its name. The Saturday sets I did on the village green were hard going, competing as I did with a bikers meet on the other side of the road. Glasson is at its busiest on Sunday anyway and it was the Sunday that really went well. Two of my sets on a slightly different bit of the green and an appreciative audience. It was here I chalked up a first! New to my "canon" of stories this year is "The Odyssey" and it got it's second outing here and I must say it was good. Not the least because I performed it entirely from a toilet. The sanitary ware was there as part of a charity appeal for the Glasson Dock Dreamscheme (a sponsored toilet sit, to raise money for building them in the third world)
It was not entirely without incident as at some point I ripped a chunk of skin off my foot and bled over the bog!
How I suffer for my art.
It was also good to meet up with a few regulars of the Solfest Message Board, Little Miss Gracie and Solfest Virgin and others whose name I never caught. For which I apologise. I have crap memory for names and faces these days and I need to improve on this.
The post gig chill out on the green was delightful sitting and talking with EMMA & THE PROFESSOR, Joe and his Lady whose name I also missed, Paul Pearson and Johnny Cello, Michelle, Mick and everybody. The pub session too. I would have loved to have told a story but was so chilled out and not a little drunk. When the request came it was too late, Karen needed her bed…
…And if truth be told. So did I.
Went home the next day at a leisurely pace, lunched in Lancaster and finished a perfect weekend off with an evening at Loweswater.
4:STAINSBY FESTIVAL: Friday – Saturday – Sunday 14/16 July.
http://www.stainsbyfestival.org.uk/
How perfect can a festival get? Stainsby comes close. We arrived after a long journey across the A66 and down the M1. But in really good time, and soon found ourselves encamped in the delightful garden of the old school scout building that was the artistes camp site with plenty of time to chill before my first set.
I love Stainsby, as festivals go it's quite small but this one has been going for thirty odd years so it has to doing something right. Musically it's unashamedly folk, but that doesn't mean the old clichés over the weekend Karen and I saw two very young, very very exciting bands. One by the name of DRAGONSFLY and the other SILVERWHEEL. They could well be coming to a festival very near to my house next year, well in fact they will be. But you'll have to wait a while before it's official. We've got to get this years SOLFEST over and done with first!
The Saturday was great, well as far as my set went anyway though I did have to compete with the impromptu drumming session right next to the circle I was storytelling in. What is it about drummers (of the Djembe kind) that makes them so totally unconcerned about anything else going on around them as long as they can thump away, and then they wonder why people don't want them in sessions!
That said I was really impressed by the drumming session led in the same circle on the Sunday by (I think the group was called Rhythm Nation apologies to them if I'm wrong) and I don't know the leaders name but he is a master of his art leading the group of around 100 or more people in a session that was more akin to that monkey dance thing that goes on in Bali or wherever. It was the first time I have seen drummers actually being conducted. It was both breathtaking and magical.
Sunday was without a doubt my best day. I used my radio mic and amp this time; if I was to battle with Djembes, again I was prepared. However, I need not have worried for all was silent and I discovered a great trick. By waving my backside near my amp the feedback created was perfect for the theremin in the "Fearnot" story and much hilarity ensued, I was also assisted by my "fans" who on command would rush out and waft me with cool air. It was so very hot after all and I was completely drenched at the end of the set anyway fans or not. "The Odyssey" was the best telling so far and ended what was near perfect set. From my point of view anyway, lots of laughs and a good group of teenagers in the audience too who are generally the worst group to tell stories too, teens being way too cool for that sort of thing.
The Wizards Pot
An archive of the life and rantings of The Wizardmarra. www.wizardmarra.com The Best Storyteller In The World.